New employee onboarding is a continuous, comprehensive, and organized process of integrating new employees physically, emotionally, and professionally into the new workplace. However, new employees are typically asked to fill out forms, complete some "read and sign" training, meet a few people, and then be asked to get to work. Unfortunately, studies have shown that most new employee orientation programs are inadequate and contribute to turnover, quality and safety issues, and poor workplace morale.
Objectives:
• Explain the goals of an employee onboarding program
• Explain the four C's of onboarding: compliance, clarification, culture, and connection
• Identify strengths and weaknesses of your current onboarding program
• List common challenges and roadblocks for onboarding programs 
• Begin to develop an onboarding plan for employees new to your organization 
Why it's Important:
• Reduce new hire turnover
• Higher productivity
• Higher safety rates
• Higher quality of work
• Higher attendance rate
• Better culture, communication, dedication, and morale
• Better employee results from day one
• Increased ROI
Learn more about Effective Employee Onboarding
Intended Audience:
• Human resources
• Organizational development professionals
• Individuals responsible for new employee onboarding
Retaining Your Employees:
An effective onboarding program can increase employee retention, thus saving you money. In a study conducted by the Center for American Progress, the cost of losing an employee can be anywhere from 16% of their salary for hourly, unsalaried employees, to 213% of the salary for highly trained positions. For example, if an executive is making $120,000 a year, the true loss could be up to $255,600 to the company to hire and train their replacement. - Huffington Post
Listen in as Joe McMurry, Senior Advisor, Workforce Partnerships for Purdue MEP, discusses how manufacturers can reduce turnover by improving their employee retention strategies.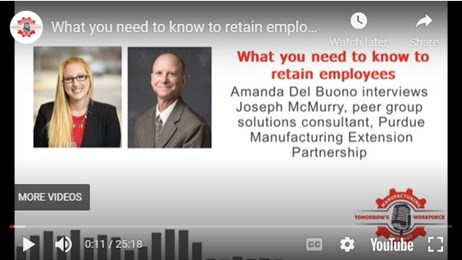 Contact

Jeremiah Sinks

Senior Services Manager, Leadership Development
Contact Us