Definition for Made in Indiana:
Company registered with either a primary or secondary manufacturing NAICS code (Purdue MEP will verify).
The product's final assembly, manufacturing or processing must take place in Indiana and the manufacturing facility must be located in Indiana.
Any field with an * is required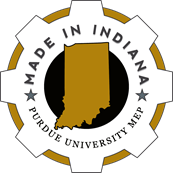 Benefits for Indiana Manufacturers:
No cost to list your company
Free company profile page to increase awareness of your products and services
Support Indiana manufacturing industry by participating
Featured Manufacturer of the Month:
Every month we feature a successful Indiana manufacturer. These Indiana manufactures are developing innovation products, reaching exciting markets and hiring Indiana's best workforce. If you are an Indiana manufacturer interested in being recognized, please mark the check box at the bottom of the registration form.
Become a Partner:
Promote Made in Indiana to your members and associates
Tell your suppliers and customers that you support Made in Indiana
Add the Made in Indiana logo to your website and social channels (Download it here)