Wednesday, March 16 2022
What is Industry 4.0?
CARMEL, –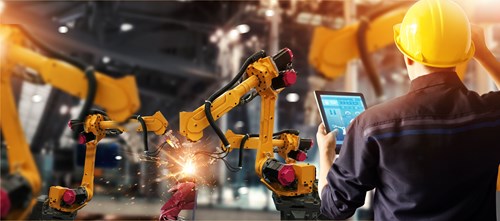 Practically everyone has heard the term "Industry 4.0," but few can agree on what exactly that term means. People have used phrases like "digital manufacturing" or "smart manufacturing" interchangeably with "Industry 4.0," but that still doesn't clarify the picture for most folks. In this article, you'll learn what Industry 4.0 means, what Industry 1.0 through 3.0 are, and what Industry 4.0 means for modern manufacturing.
In the broadest sense, Industry 4.0 references the fourth Industrial Revolution. Over the past two centuries, the world has gone through four major technological transformations that have completely changed how goods and products are made. The first industrial revolution (Industry 1.0) spanned the late 1700's to the mid-1800's, when companies began to increasingly adopt the use of steam power and the steam engine in their manufacturing processes, transitioning away from the use of water and wind to drive production machinery. Steam-powered trains and ships improved how goods and materials could be transported. This period in time also introduced other significant inventions, like gas lighting, which enabled factories to operate at night longer compared to the use of candles or oil lamps.
The second industrial revolution (Industry 2.0) took place from around 1870 to 1914. The invention of cost-effective steel production methods launched a major expansion of the railway system and led to more durable machinery, which boosted industrial production. The discovery of electric power transformed production, as electrical motors and machinery were more versatile, efficient, and easier to maintain than steam-driven equipment. The development of production assembly lines and mass production methods resulted in huge capacity and productivity gains. The invention of automobiles made it easier for companies to gain access to labor and to transport goods to areas not served by the railways. Improved communication methods, such as the telegraph, telephone, and radio, helped manufacturers respond faster to market demands.
The third industrial revolution (Industry 3.0) occurred during the second half of the 20th century and into the early part of this century. This period in time marked the rapid rise of computers and the digital age. Computer technology advanced to where the same computing power that once required entire rooms of wall-to-wall computers in the 1970's, now fits in the palm of your hand. The invention of the internet connected the world and opened the door to new opportunities for sharing and using information and data.
We are now in the midst of the fourth industrial revolution (Industry 4.0), where a wide range of new technologies connect people and machines together in an integrated digital/physical ecosystem. Industry 4.0 enables seamless generation, analysis, and communication of data, which provides new capabilities for automating manufacturing processes and making better business decisions. Some of the key Industry 4.0 technological breakthroughs include advanced robotics, artificial intelligence, cloud-based data, internet-connected sensors, 3-D printing, and virtual/augmented reality (just to name a few).
Because Industry 4.0 centers around combining people, processes, and technology, it can be difficult for a small manufacturer to know where to begin or how to get started. It is often advisable to start small with technologies that are affordable and relatively easy to deploy and integrate with existing equipment and processes. This provides employees an opportunity to get accustomed to how the technology works and how it can improve their jobs. Purdue MEP's Digital Manufacturing Technology Center, located in Carmel, offers Industry 4.0 technology demonstrations and education that can help small manufacturers learn which technologies might be right for them. Additionally, Purdue MEP offers technology consulting and assessment services that further assists manufacturers with starting their own Industry 4.0 journey.  Contact us today to learn more about our services, schedule an assessment, or arrange a visit to our Digital Manufacturing Technology Center.
Enjoyed this article? Sign up for the DTMC newsletter here and stay up-to-date on the latest trends in manufacturing technologies.
Writer: Robert Goosen, 765-496-4101, rgoosen@purdue.edu