Wednesday, October 18 2023
L. David Snow Receives
2023 Lifetime Achievement Award
Presented by the Indiana Manufacturers Association
CARMEL, Ind. – L. David (Dave) Snow, Senior Executive Director of Purdue Manufacturing Extension Partnership (MEP), received the 2023 Indiana Manufacturers Association's (IMA) Manufacturing Excellence Award for Lifetime Achievement on October 18, 2023, in Indianapolis at the Biltwell Event Center.
Dave has spent the past 30 years dedicated to empowering, enriching, and advancing the manufacturing industry in Indiana. Having grown up in Lebanon, IN, Dave graduated from Indiana State University and started his career in the airborne military electronics industry as a quality assurance professional with the Hughes (Howard) Aircraft Company in El Segundo, CA. He returned to Indiana in 1993 and joined the Indiana Business Modernization and Technology Corporation (BMT) where he held leadership positions in the organization for 12 years. BMT helped thousands of Indiana companies, in particular manufacturers, increase sales, improve cash flow, reduce costs, and gain access to technology and financing.
In 2005, Dave became the Interim Director of the Indiana NIST MEP (National Institute of Standards and Technology - Manufacturing Extension Partnership) Center and assisted in the transition of the Center from the former BMT organization to Purdue University. The merger has been a tremendous success for the State of Indiana and Purdue University. In early 2024, Dave will retire from Purdue University as Senior Executive Director of Purdue MEP where he spent almost 20 years leading the organization to success.
"Within the Office of Research at Purdue University, we are focused on developing technologies that are critical to the country's economic growth and sustainability, and the manufacturing industry is no exception. It is a critical industry to Indiana and the nation. Under Dave's leadership, Purdue MEP achieved $6.6 billion in economic impact which is a testament to the value this Center brings to Indiana manufacturers," states Dr. Karen Plaut, Executive Vice President for Research at Purdue University.
A few notable milestones achieved during Dave's tenure at Purdue MEP since 2005:
Achieved over $6.6 billion in economic impact for Indiana manufacturers.
Provided services to over 2,000 different Hoosier manufacturers.
37,381 manufacturing jobs created or retained.
Launched the Digital Manufacturing Technology Center (DMTC) and Fastrack program, a public and private partnership, to promote the adoption of Industry 4.0.
Over his tenure, increased the Center's staffing and funding six times by attracting and administering over $125 million in federal, state, and industrial investment to provide affordable services to Indiana manufacturers.
Curated a top-tier Board of Advisors for Purdue MEP, bringing together manufacturing experts coupled with local government to provide strategic oversight.
Established the Purdue University MEP Center as a top-tier National Institute of Standards and Technology (NIST) national extension service center.
"Dave's career has been defined by an internal mission and drive to advance the manufacturing industry forward not only through offering the highest tier resources to manufacturers through Purdue MEP, but by also exploring partnerships within the industry, academia, and supporting organizations to accelerate the industry," states Ranae Stewart, Interim Executive Director of Purdue MEP. "He has worked tirelessly to help Hoosier manufacturers be more successful, and there is no better way to recognize his efforts than with the IMA's Lifetime Achievement award."
"The Indiana Manufacturers Association instituted the Indiana Manufacturers Hall of Fame Awards in 2015 to help bring awareness and recognition to the many positive contributions of Hoosier manufacturers. We added the Manufacturing Excellence Awards in 2019 to focus and honor companies in specific areas of achievement," said IMA President and CEO Brian Burton. "We congratulate Dave Snow for his outstanding work and continued dedication to making Indiana manufacturing a positive and driving force for the state."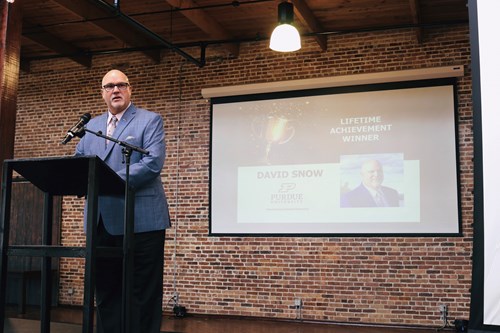 Pictured above: Dave Snow accepts IMA 2023 Lifetime Achievement Award on October 18, 2023.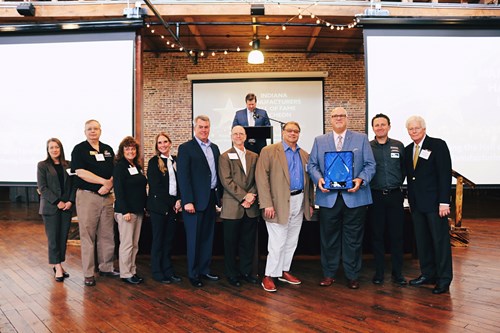 Pictured left to right: Rachel Osting (2023 IMA Chair from Fort Wayne Metals), John Drach (Purdue MEP), Sharon Ohman (Purdue MEP), Elise Langenberg (Purdue MEP), Michael Dees (Purdue MEP), Joe McMurry (Purdue MEP), Art Thomas (Purdue MEP), Dave Snow of Purdue MEP (holding plaque), Kyle Squillace (Purdue MEP), Brian Burton (IMA President/CEO).
About Purdue Manufacturing Extension Partnership (MEP)
Purdue MEP, part of the MEP National Network, provides high-value, affordable, personalized consulting and training services that enable Indiana manufacturers to work smarter, compete, and prosper. We develop more effective business leaders, drive product and process innovation, promote company-wide operational excellence, and foster creative strategies for business growth, workforce development, economic competitiveness, and greater profitability.
About the Indiana Manufacturers Association
Formed in 1901, the Indiana Manufacturers Association is the second oldest manufacturers association in the country and the only trade association in Indiana that exclusively focuses on manufacturing. Manufacturing is the driving force of Indiana's economy, employing more people and contributing more to Indiana's gross domestic product than any other industry. The Indiana Manufacturers Association, representing more than 1,100 companies, is dedicated to advocating for a business climate that creates, protects, and promotes quality manufacturing jobs in Indiana. The staff of the Indiana Manufacturers Association are recognized experts in areas including tax, environment, labor relations, human resources, energy, workforce development, and health care. To learn more about how membership can be a benefit for your company, visit www.indianamfg.com.
Writer: Julie Warner, 765-496-1200, jawarner@purdue.edu