Tuesday, November 15 2022
Is Legacy Equipment Slowing You Down?
CARMEL, –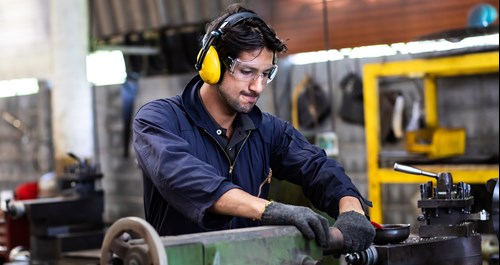 In today's competitive manufacturing environment, maintaining production efficiency is critical. One area that is often overlooked is the amount of time being spent by employees monitoring legacy equipment and machines that do not have the ability to capture data or report downtime. The solution lies with remote machine monitoring devices.
Optimize Your Employee's Time
Freeing up employees to conduct more technically challenging tasks is a need that will continue to grow. Too often we see employees spending too much of their time overseeing well-running equipment throughout the day, to ensure that it is fully operational. Such tasks often do not provide daily value to a company and, depending upon the nature of the operation, require several individuals throughout a facility. With access to live data through remote machine monitoring, you can easily tell what is happening on your shop floor through a device. This technology frees up workers from having to "babysit" older equipment and only pay attention to those machines when needed.
Remote Access to Real-Time Machine Analytics
Remote machine monitoring systems, such as the easy-to-install/maintain equipment provided by companies like Amper, enable companies to remotely view in real-time equipment's uptime, part count, scrap count, and Overall Equipment Effectiveness (OEE) with simple-to-read, at-a-glance dashboards. Data tracking provides shop floor and plant managers the capability they need to chart and track downtime occurrences and create Pareto charts, which can help to address commonly occurring issues.
Alerts Enabled to Acknowledge when Machines Need Attention
Available in a variety of designs, remote machine monitoring systems can track different metrics including current sensing or vibrational monitoring. By providing real-time monitoring of the amperage requirements of a device or vibrational noise during operation, artificial intelligence (AI) algorithms can determine a machine's status and track production activities automatically. Should a piece of equipment not provide the expected signals, the AI software can create alerts, letting production staff know a particular piece of equipment is no longer operational and requires attention. Employees no longer need to watch over the machine comprehensively, as is often the case with older production equipment.
Is Your Legacy Equipment Slowing You Down? Contact us!
If you are interested in learning more about the capabilities of remote machine monitoring, please contact the Purdue Manufacturing Extension Partnership (MEP) to schedule a time to chat. We would be happy to provide demonstrations and examples of equipment that may be the right fit for your operations.
Enjoyed this article? Sign up for the DTMC newsletter here and stay up to date on the latest trends in manufacturing technologies.