Wednesday, July 20 2022
How Virtual Reality Can Increase Efficiency for Manufacturers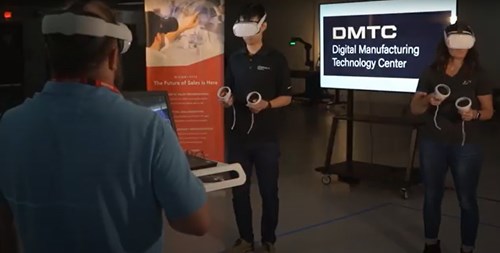 The labor challenges being faced by companies today do not only pertain to line workers and production employees. Sales individuals, engineers, trainers, and HR staff are not immune to the shortage.
Just as automation is important to free-up production employees for more technical and hard-to-automate tasks, the same holds true for individuals whose job duties may not require direct interaction with production equipment.
Virtual Reality Aids in Manufacturing Training, Sales, and More
As the popularity of virtual reality (VR) continues to grow, most individuals are aware of its capabilities in creating 3D immersive, interactive gaming experiences. However, these devices have enormous potential for workplace training, virtual showrooms, product design review spaces, and interactive learning environments.
Using the same hardware and often the same design / development software, VR companies are creating effective ways to ease the burden on employees who carry out critical tasks away from the production line. Tasks such as training new hires, aiding with the upskilling of current employees, providing engineers with the means to interactively review products remotely as a group, and allowing sales team members to showcase manufactured goods in a virtual setting for potential customers.
Custom VR environments can be developed using CAD drawings of current products and production lines or provide companies with expansive and well-detailed product showrooms and meeting spaces. The complexity of these environments can be as varied as the imaginations of your team.
Complimentary to custom-designed spaces are pre-developed training environments, which aid in ensuring proficiency of the various required day-to-day tasks, such as proper tool use, task best practices, as well as accurate PPE selection and applications. These pre-developed modules allow for tracking of progress, record keeping of trainee proficiencies, and ensuring consistency of material delivery. These modules allow trainers to effectively oversee several trainees at the same time, regardless of the training tasks.
Augmented Reality Overlays Virtual Content in a Real Environment
As discussed, VR provides the opportunity for people to become fully immersed in a non-real environment. In contrast, augmented reality (AR) is able to take the world around you and add virtual content as an overlay. While VR most often requires specialized equipment, AR can start with something as simple as a cell phone or tablet and expand in complexity to wearable headsets or non-contact equipment that is able to project the virtual content into the real world.
Similar to VR, AR technology has existed for quite some time, and many folks have probably used applications like Amazon's feature to preview household items in one's own home. Similar to viewing a new couch for your living room, AR offers the ability for field technicians to be aided by remote experts, helps production line employees identify correct parts and procedures, and enables sales team members to project virtual representations of finished goods within the real-world.
As you work to make your operations more effective, we encourage you to explore additional Industry 4.0 options for increasing your production and non-production employees' bandwidth, while reducing dependence on constant direct interactions and travel. Efficiency gains can be found in all roles and are needed now more than ever. If you are interested in pursuing VR or AR technology, please reach out and schedule a time to speak with one of our experts at dmtc@purdue.edu.  
Enjoyed this article? Sign up for the DTMC newsletter here and stay up-to-date on the latest trends in manufacturing technologies.