Thursday, May 19 2022
Additive Manufacturing – A Viable Link in the Industrial Supply Chain
CARMEL, –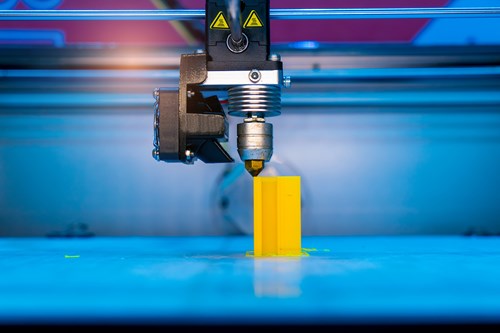 Today's manufacturing supply chain landscape falls somewhere between challenging and downright ugly with the costs of transportation putting strains on everyone. Are you having to absorb significant cost increases, endure lengthy lead times, or worse… cancellations from your customers fed up with backorders? When was the last time you compared a traditional manufacturing method with a hybrid or purely additive manufacturing solution? If you have not considered additive manufacturing for anything beyond prototyping before, you may be missing an opportunity to fix one or more links in your broken supply chain.
Additive manufacturing (AM) is often used when describing 3D printing and its supporting processes to produce a complete part for the industry. Don't limit your applications to the low-hanging fruit of 3D printing a prototype or manufacturing aid, such as an assembly fixture. There's so much more you can do!
Hybrid Manufacturing - Manufacturers are missing out if they have not considered additive or hybrid manufacturing - using the best of what additive has to offer in combination with the reliability and familiarity of traditional manufacturing processes and proven materials. For example, the foundry industry uses additives to produce soluble patterns, sand tooling for spare parts or short-run production, and high-volume complex cores that can only be built with additive technology. The resulting metal parts are poured the same way as traditional castings but with fewer steps, shorter lead times, and often lower tooling costs.


Production-Ready Tooling - End-use parts built directly using AM can be difficult to get approved in many industries or the geometry just may not make much sense for AM. The next avenue to explore for that part may be its tooling produced with AM. Production-ready tooling that is likely to change, difficult to produce, or risky to invest in during a program's infancy are opportunities to explore lower cost, speedier tools using AM. Examples include a printed mold for urethane castings, injection mold tooling for a few or a few hundred parts, or thermoforming using a printed sand or porous plastic tool.


Reduce Business Risks - Contingency planning is important for a program's supply chain and AM can be a viable plan B for when the unexpected happens – which has been all too common recently. Due to its ability to directly produce parts without hard tooling, distributed manufacturing benefits (instead of last-mile delivery, think last-mile manufacturing), and unlocked design freedoms making it more agile and responsive to customer demand. Spare, warranty, and legacy plastic parts no longer supported by the OEM can be made in several ways involving AM. Purdue MEP is one resource to reach out to if you have a challenge that AM could solve.
The additive manufacturing industry is not to the point of being able to 3D print microchips at scale so it is not a magic wand, but AM can likely do more for your business than you think. The state of Indiana has several companies leading the way in applying additive technology to impactful manufacturing use cases. Progressive manufacturing leaders are working with industry insiders to get creative (often hybrid) and pragmatic solutions for new applications on a weekly basis. Learn from those who have been around AM for decades… 3D printing is not solely for prototyping any longer.
Enjoyed this article? Sign up for the DTMC newsletter here and stay up-to-date on the latest trends in manufacturing technologies.
Writer: Kyle Squillace, 317-373-3910, kbsquill@purdue.edu