Monday, September 11 2017
FISHERS, –
Situation-Based Leadership and Employee Readiness
There is no single optimal leadership style, and successful leaders adjust their styles based on "follower readiness," according to the Hershey and Blanchard situational leadership model. Follower readiness is an employee's readiness to perform in a given situation as determined by two factors: follower ability and follower confidence.[i] This model proposes that leaders deal with varying levels of follower readiness by adjusting their relative emphasis on task and relationship behaviors. That is, leaders should be able to place varying levels of emphasis on task and relationship with the people they are leading, depending on what is needed and situationally appropriate. According to the model, this gives rise to four leadership styles: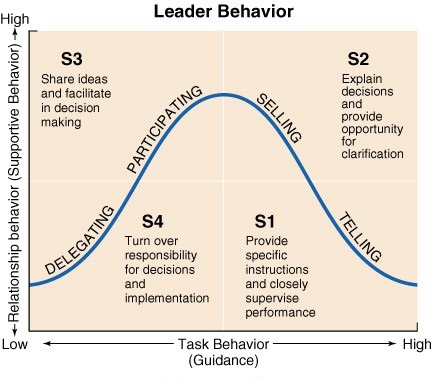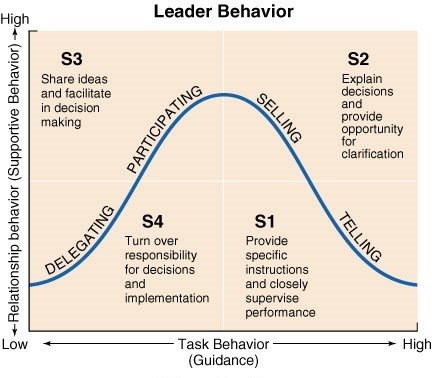 Telling Style: this style is characterized by high task guidance, low-relationship style where the leader gives explicit directions and closely supervises performance.  

Selling Style: this style is characterized by high task guidance behavior, but also a high-relationship style, in which the leader attempts to "sell" his ideas to the group or individual by explaining task directions in a persuasive or educational manner.
Participating Style: low task guidance coupled with a high level of supportive behavior characterize the Participating Style of leadership, this style emphasizes shared ideas and decisions.
Delegating Style: low task guidance, low relationship style, where the leader allows the group or employee to take responsibility for task decisions, to take ownership for his or her work, and empowers them to control their own projects and make their own decisions using expertise and experience.
Follower (Employee) Readiness
Each style is appropriate for employees at different levels of follower readiness, the trick is applying the appropriate leadership style at each critical stage of employee development. Follower readiness, a mix of ability and confidence/willingness to do the job or task, can be broken down into 4 stages below, moving from right to left as the employee matures.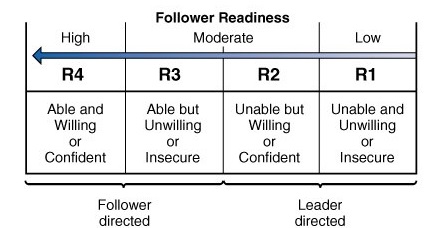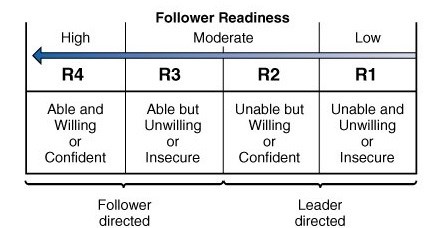 R1: The New Employee
The R1 is characterized as unable, and unwilling or insecure. This will typically represent the NEW employee. Obviously newly hired employees need training. 
R2: The Progressing Employee
Once the employee starts learning, they move to an R2.  An R2 is still unable to complete all of their job responsibilities, but they are becoming more confident and their willingness increases. 
R3: Two Types
In my way of thinking, there are two distinct R3 employee types.  The first is the recently promoted or tenured employees moved to a new area.  The employee is able to do the job (or else we would not have promoted/moved them), but they are hesitant until they get familiar with their new role and responsibilities. 
The second type of employee who fits R3 is what is called "retired in place".  This is an employee who is typically very tenured and is quite capable of performance their job; but, because they "see the beach at the end of the tunnel" are doing the bare minimum and just hanging on until that golden day of retirement (i.e. the beach). 
R4: The Ideal Employee
Of course, the ultimate goal is to move all the employees on our teams to R4s as quickly as possible.  R4 employees are those who can take an assignment or task and managing it from "cradle to grave" with very little oversight. 
Applying the Situation-based Leadership Model
It would be wonderful to have every employee on our teams at the R4 level, but we know that is very uncommon.  We typically have employees at every level of follower readiness and therefore must lead them with the applicable behavior.  Thus the term situational leadership™ model.
| | |
| --- | --- |
| Follower Readiness | Most Appropriate Leadership Style |
| R1: Low confidence/ability | S1: Telling |
| R2: Confident but lacking skills | S2: Selling |
| R3: Higher skills but lacking confidence | S3: Participating |
| R4: High skills, High Confidence | S4: Delegating |
Leading an R1 Employee
The S1 Leader Behavior (Telling) is recommended.  Why is this?  Because the employee has no idea what is required of them, and therefore needs specific instructions and close supervisory support. 
Leading an R2 Employee
At this point, leader behavior should move to S2.  Here, the leader is Selling, meaning they are explaining decisions and encouraging the employee to ask questions and seek clarification if they are not sure about something.
Leading an R3 Employee
For the recently promoted/tenured employees, the leader behavior moves to S3 (Participating).  We should allow the employee to share ideas, as well as share in decision-making.  This leader behavior will help quickly build the employees willingness/confidence and thus allow them to move quickly to R4. 
For the "retired in place" individual, this type of employee can be moved to an R4, by reengagement in a process bigger then themselves.  An example might be encouraging a more tenured person to take a "newbie" under her or his wing and show the newbie the ropes, so to speak.  Another possibility is to reengage them through having them participate in a kaizen project or new product/process development team.  In both of these cases, the leader is encouraging participation (i.e. S3 leader behavior).  Not every "retired in place" employee will reengage, however, my experience is most will if you present the opportunity properly.
Leading an R4 Employee
R4s thrive under S4 leader behavior (i.e. delegation).  You hand off the project and make yourself available to knock down those barriers to their success they themselves cannot knock down.  (Examples would be approvals from other leaders or higher management).  Other than that, you can be confident things will get done with little, if any, oversight from you.
The Key to Situation-Based Leadership is Flexibility
A note of caution.  One of the mistakes I often see is leaders who are not moving at the same speed of the employee.  For example, if you continue to treat an R2 employee as though they are still an R1, you will cause them to backslide.  As effective leaders, we must keep up with the movement of our followers' readiness. 
Another common mistake is to treat all employees the same regardless of their readiness.  As you could probably tell from my previous article, I am big fan of practicing servant leadership (more on that in future articles).  I am NOT a fan of autocratic or authoritarian leadership.  If you treat all employees as R1s you will not be an effective leader nor will your teams produce at their maximum potential.  I still see too many leaders making this mistake to the detriment of their teams and their organizations.
Assessing Your Team, Finding the Appropriate Leadership Style
Take the time to review the model.  I suggest taking a list of your current employees and identifying where they are on follower readiness (i.e. R1, R2, R3 or R4).  Then ask yourself this question;
Does my leader behavior sync with the employee's readiness?
If not, now you know how you can encourage your employees at their level of development.
Interested in Leadership? Check our Upcoming Workshops and Events page for classes in your area. 
[i] 1)           Paul Hersey and Kenneth H. Blanchard, Management and Organizational Behavior (Englewood Cliffs, NJ: Prentice-Hall, 1988).
Error loading Partial View script (file: ~/Views/MacroPartials/NewsItemAuthorList.cshtml)