Tuesday, January 17 2023
PTAC/IEDC Announces Additional Funding Available for Cybersecurity Assessments for Indiana Defense Companies
CARMEL, –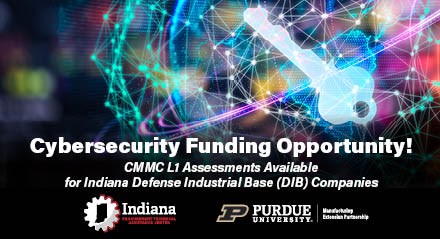 In January 2023, the Indiana Procurement Technical Assistance Center (PTAC), part of the Indiana Economic Development Corporation (IEDC), announced it is again partnering with Purdue Manufacturing Extension Partnership (MEP) and Purdue cyberTAP to assist manufacturers with cybersecurity efforts. The initiative provides funding for Cybersecurity Maturity Model Certification (CMMC) Level 1 assessments and implementation. CMMC is a unifying standard for the implementation of cybersecurity across the Defense Industrial Base (DIB).
This opportunity is optimal for small-to-medium-sized companies in the DIB that need support to adopt foundational cyber practices and are unable to participate in the U.S. Department of Defense (DoD) contracting realm without it.
"This is a unique and fantastic opportunity to improve the cyber-health of Indiana small businesses in the defense sector," states Gene Jones, Senior Services Manager for Cybersecurity and Defense at Purdue MEP. "To my knowledge, Indiana is the only state that provides funding for CMMC Level 1 assessments and implementation. Assessments that provide a list of action items is great, but support for implementation is rare and unique."
Since 2021, PTAC has provided $150,000 in funding for this initiative. The purpose of this support is to strengthen and support local businesses while increasing defense revenue growth in the State of Indiana. 
"Our partnership with Purdue MEP provides Indiana companies with nationally recognized cybersecurity experts for CMMC compliance and, most importantly, assistance to protect their businesses and our nation from cyber threats and attacks," commented Christine Jeffers, Vice President, IEDC Defense Business Development.
Interested in learning more? Contact Gene Jones at jonesew@purdue.edu to find out if your company is eligible and to begin the assessment process. Click here to find out more about Purdue MEP's cybersecurity services for manufacturers. 
Writer: Julie Warner, 765-496-1200, jawarner@purdue.edu