Thursday, March 01 2018
MEP's new Digital Manufacturing and Design Assessments: Let us Help YOU
WEST LAFAYETTE, –
Purdue MEP is at the forefront of the Digital Manufacturing and Design revolution. Through membership in the Digital Manufacturing and Design Institute, Purdue MEP has developed a comprehensive assessment to help manufacturers identify and close gaps in their digital workflow. This new offering consists of a site visit and a two to four hour assessment. The process reviews your company's capabilities across five different assessment areas: Enterprise Support Operations, Supply Chain Data Exchange, Design and Engineering, Digital Factory Floor, and Cybersecurity. From this assessment, a summary report is generated and used to discuss the available solutions that can be leveraged for your company.
What is Digital Manufacturing and Design?
Digital Manufacturing is an integrated approach that brings together software, data, and control systems to model, simulate, analyze, control, and optimize both a product and its manufacturing systems performance.
The Digital Manufacturing revolution is happening across manufacturing in the United States. If your company is behind there is limited time to catch up. Despite the fact that manufacturing generates more data than any other sector in the economy (Figure 1), few companies are taking advantage of the benefits that can be realized by embracing the Digital Manufacturing initiative. Think of all the revolutions in technology over just the last few years, and what threats and opportunities Digital Manufacturing can pose to your organization. New technologies like IoT, predicative maintenance, and radio frequency identification (RFID) can revolutionize the way your operation does business.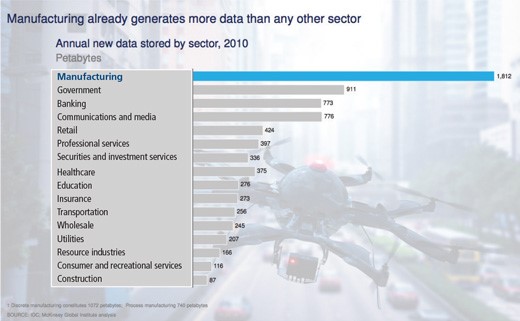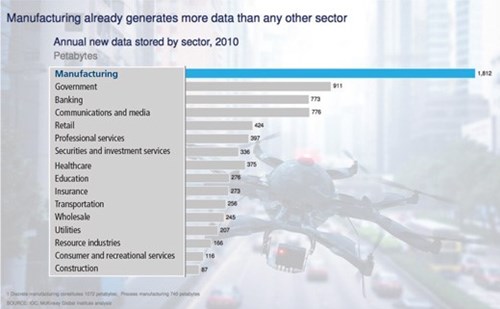 Figure 1
Source: McKinsey
Digital Manufacturing and Design methodologies can be used to decrease time to market by taking projects from months to complete, to days. Integrated design technologies can allow for near instantaneous product changes and complete revision control, a Model Based Definition (MBD) approach to design can improve your quality and capability, and ensure the right people have the right access to the data they need to excel. Vast improvements can be had by embracing DM&D technologies including:
Increased integration and efficiency
Reduction of technology adoption costs
Reduction of cost of manufacturing
Reduction in cost to design
Contact Tyler Brown (brow1224@purdue.edu; 435-760-8379) for more information, or to set up a Digital Manufacturing and Design Assessment.