Monday, March 27 2023
Benefits of Lean Automation in Manufacturing
CARMEL, –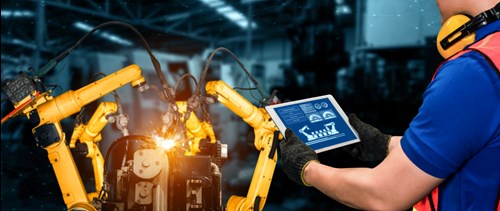 When you choose to integrate Lean automation into your facility, your processes become faster and more efficient. If done correctly, adding automation can bring your company multiple benefits while still adhering to Lean manufacturing principles.
1. Increase Worker Safety
Worker safety should be paramount throughout the manufacturing industry. By automating dangerous processes, you can keep your employees safer while reducing errors in manufacturing. For instance, an automated storage and retrieval system keeps employees out of danger on a warehouse floor, where forklift accidents and collisions can occur. Using such a system also reduces human errors in picking or storing products.
2. Reduce Lead Times
Another means of using automation to benefit your operation is through automatic conveyors that deliver components to human workers to assemble the parts. People save time because they do not have to walk between stations. The workers can also have less physical discomfort if the parts arrive at their work areas in an ergonomic position for assembly. A manufacturing facility that served as a subsidiary of Volkswagen employed this type of system to keep quality high and cycle times short.
3. Improve Accuracy
By choosing to automate certain aspects of production, you can more effectively produce larger quantities at lower costs. However, you should not fixate on creating a specific model for your facility. Combining approaches and technologies to blend the best of waste reduction and cost savings with productivity will serve you best while keeping in Lean practices. For instance, automating assembly processes can help your operation to reduce mistakes in production and the wasted time for reworking.
4. Reduce Costs
Cutting costs is the greatest benefit for Lean automation and Lean manufacturing. By wisely using automated systems, you reduce your costs. One way to lower costs without sacrificing worker time in maintaining machinery is through using robots to work alongside human employees. The robots reduce the human effort and the required investment while human workers can maintain a desired level of quality.
Learn How to Better Your Business Through Lean Consulting
Purdue MEP provides high-value solutions to help Indiana manufacturers maximize their success. Our staff identifies areas for improvement, streamlines processes, and ultimately increases competitiveness. For more information on how Purdue MEP can help you overcome your manufacturing challenges, contact us at mepsupport@purdue.edu.
--------------------
This article was originally published by MANTEC, a private, non-profit 501(c)(3) manufacturing service provider dedicated to meeting the needs of small and mid-sized manufacturing enterprises in South Central Pennsylvania. Both MANTEC and Purdue MEP are part of the MEP National Network.
To view the article, "LEAN Automation in the Manufacturing Industry" in its entirety please click here.