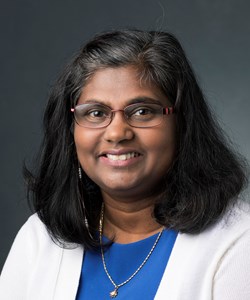 Samanthi Obeyesekera
Senior Program Administration Specialist
765-494-7810
Responsibilities:
Samanthi is responsible for monitoring, administering, and supporting programs that facilitate achieving MEP objectives. She participates in developing and implementing program policies, processes, and procedures related to grant administration, reporting, and budgeting. Samanthi holds responsibility for handling required program assessments and data maintenance via the MEP's Salesforce CRM and participating in preparing and reviewing budget allocations. In addition, Samanthi facilitates communication and fosters relationships with internal and external constituents.
Background:
Samanthi has over 20 years of experience in banking and finance and 9 years of experience in the higher education field relevant to account management, attached to Purdue University's business and finance area. She earned her first degree in economics from the University of Peradeniya Sri Lanka and is working on her communication - human relations degree through the Brian Lamb School of Communication at Purdue University West Lafayette. She also holds a diploma in banking and finance from the Institute of Bankers, London/Sri Lanka.
In her Research Account Specialist role at Purdue, Samanthi has acted as the designated specialist for highly complex government and industrial research portfolio projects to promote communication among the investigator team for project reporting, budgeting, coordinating, preparing and reviewing grant proposals, providing projections, and worked with the Principal Investigators, staff and students to address any issues concerning Purdue and sponsor policies, rules and regulations when managing the projects. Working within business and finance, Samanthi has expertise in all finance-related functions carried through the business and services area at Purdue, such as purchasing, travel, and payroll including the summer pay and PAR certifications.
Skills & Expertise:
Accounting
Budgeting
Auditing and Account Reconciliation
Banking
Debt Recovery
Account Receivable and Payable
Project Management
Recharge Center Operations
Report Preparation and Data Analyzation