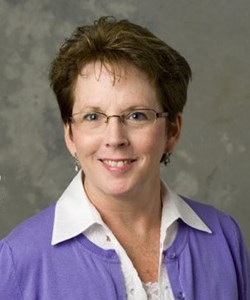 Michelle Macy,
Manager of Administrative Projects
317-275-6810
Responsibilities:
Michelle is responsible for the daily administrative functions within our MEP Center, including: management of leases, expense and travel reimbursements, fund allocations, procurement expenditures, as well as administrative support for our Leadership Team. She oversees the internal organization of hiring processes and manages all New Hire Best Practice onboarding procedures. 
Background:
Michelle has over 35 years of administrative office support expertise. Her experience includes: Executive, Human Resource, and Operational support, as well as implementation of Company Best Practices and adherence to all policy guidelines and customer service focuses, goals and objectives. Michelle's strong time management, multi-tasking, "can do" attitude and organizational skills allow her to perform high quality and quantity of work throughout our Center.
Skills & Expertise: 
5S Workplace Organization
Administrative Leadership
Administrative Project Management
Customer Service
Effective Communication
Event Planning
Financial Reports
Lean Office & Change Management
Microsoft Office Suite
Office Management
Problem Solving
Six Sigma White Belt
Time Management
Value Stream Mapping