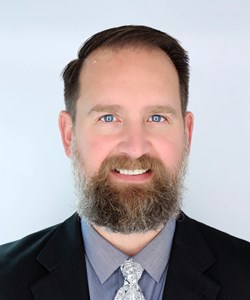 Jon Reneberg
Lead Digital Manufacturing Specialist
317-275-6810
409-422-7489
Responsibilities:
Jon spearheads the Technology Acceleration practice at Purdue MEP, empowering manufacturers to embrace advanced manufacturing capabilities.
He provides a comprehensive suite of digital manufacturing training and consulting services, encompassing collaborative robotics, additive manufacturing/3D printing, manufacturing automation, reverse engineering, and CAD/CAM systems. Jon's expertise guides manufacturers in seamlessly integrating these cutting-edge technologies into their operations, driving productivity, efficiency, and innovation.
Background:
Jon is a seasoned manufacturing, engineering, and automation expert with over two decades of experience in the field. His journey began as a machine operator working the midnight shift while pursuing his college education. Driven by a passion for continuous learning and a knack for tackling new challenges, Jon has navigated through a diverse range of positions within the same Fortune 500 company. His extensive portfolio includes supply chain, behavioral safety, process safety, EHS management, and data automation, spanning various locations across the Eastern and Midwest regions.
Jon possesses a deep expertise in risk management, root-cause analysis, and opportunity assessment. His background as a software developer and UX/UI advocate further complements his skillset, enabling him to bridge the gap between technology and operational excellence. In his most recent role, Jon demonstrated his commitment to knowledge sharing by teaching C# programming to process, mechanical, and chemical engineers, empowering them to harness data automation for enhanced efficiency.
Beyond his professional endeavors, Jon is an avid tinkerer, relishing the opportunity to rapid prototype physical hardware and software using additive manufacturing, laser cutting, and programmable microcontrollers. His passion for innovation led him to develop a life-saving fall protection automatic notification system prototyped on the Arduino platform, for which he holds a patent.
Jon holds a BA in Business from William Penn University and an MS in Safety Sciences from Indiana University of Pennsylvania. His academic background, coupled with his extensive practical experience, has shaped him into a well-rounded professional with a unique blend of technical expertise and creative problem-solving skills.
Skills & Expertise:
Project Management
Rapid Prototyping
Systems Thinking
Additive Manufacturing/3D Printing
Lean Manufacturing
Software Development
Risk Assessment
Root Cause Analysis
Data Automation
Machine Safeguarding
Process Safety
Opportunity Assessment
Problem Solving
Relationship Management
User Experience (UX)