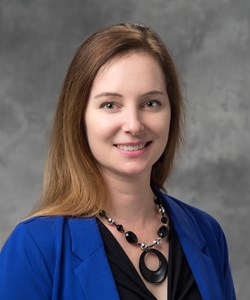 Adrianne Manning,
Senior Administrative Assistant
317-275-6810
Responsibilities:
Adrianne is our Customer Service Ambassador for MEP. She facilitates daily expense needs, funding source allocation, and the Concur staff's needs for MEP expenditures. She also maintains documentation, audits, lease agreements, and maintenance for all vehicle fleet logistics. Adrianne helps back up and support other employees here at MEP.
Background:
Adrianne has a wide variety of skills from customer services to human resource. These skills have allowed her to have some fun and interesting jobs over the years in the variety of states that her and her family have lived in. Now that she has put roots down in Indiana she is excited to start her new adventure here with Purdue MEP.
Skills & Expertise: 
Accounts Payable/Receivable
Management
Customer Service
Human resources
Payroll & payroll auditing
Financial Reporting
Microsoft Office Suite
Problem Solving
Scheduling
Time Management
Organization
"Can-do & Will-do" attitude