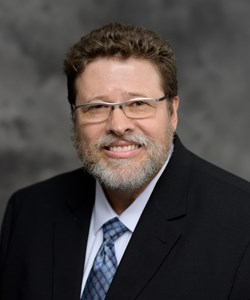 Kevin Walton
Lead Service Manager Innovation and Product Development
765-494-5343
812-350-7747
Responsibilities: 
Kevin is primarily responsible for Purdue MEP's New Product Development (NPD) efforts and Innovation services. He also engages directly with manufacturers delivering several of the Purdue MEP's training and consulting services across a variety of disciplines and industries.
Background: 
Kevin obtained a BSEE from Rose-Hulman Institute of Technology and received his MBA from the University of Illinois with a Certificate of Academic Excellence. His experience includes over 25 years in product design and development, strategy, and manufacturing operations, automated assembly and test, reliability, management systems for quality and environmental compliance, systems engineering, and program management for the automotive, aerospace, heavy equipment, and electronics industries. Kevin spent time at Cummins (CMI), TRW (ZF), Ford Motor, and US Naval Air Warfare Center where he led global teams for a variety of projects. Kevin has consulted for clients in the healthcare, education, and medical device industries as well.
Kevin is an expert in the application and training of several management system standards, technology development, systems engineering, Theory of Inventive Problem Solving (TRIZ), and other innovation methodologies. He has been certified in many specialties including as a CMI Master Blackbelt skilled in Design for Six Sigma (DFSS) and Lean Process Six Sigma. Kevin also continues to operate his family's 150-year-old Hoosier Homestead grain farm.
Skills & Expertise: 
Lean/DMAIC Six Sigma, Design for Six Sigma (DFSS)
Lead Auditor for ISO 9001:2015, ISO 13485:2016, and IATF 16949:2016 with OEM Requirements and Core Quality Tools
ASQ Certified Quality Auditor (CQA)
ASQ Certified Manager of Quality/Organizational Excellence (CMQ/OE)
ASQ Certified Reliability Engineer (CRE)
ASQ Certified Quality Engineer (CQE)
Innovation Management Professional, Certified by the Product Development Management Association (PDMA)
Certified Electronics Manufacturing Services Program Manager by the Association Connecting Electronics Industries (IPC)
Electronics and Controls System Engineering/Design
Risk Analysis and Mitigation/Failure Mode & Effects Analysis (FMEA)
Warranty Analysis and Product Life-Cycle Cost Optimization
Industry and Technology Trends Research - Strategic Planning and Product Portfolio Architecture
Customer Journey Mapping, Needs Assessment, and Actionable Opportunity Identification