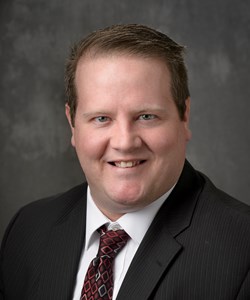 Jeremy Daugherty
Industry Consultant, Food and Beverage
317-558-9956
Responsibilities:
Jeremy Daugherty is an Industry Consultant for the Purdue Manufacturing Extension Partnership, focusing primarily on the Food and Beverage industry.  He is a lead instructor of the Food Safety Preventative Controls Alliance (FSPCA) Preventative Controls for Human Foods course that is the "standardized curriculum" recognized by the FDA.
Background:
Jeremy has over 13 years of experience in the Food and Beverage Industry with expertise in Food Safety and Quality Assurance. His background includes roles as a Quality Control Lab Technician, Quality Assurance and Food Safety Manager, and Plant Manager. Jeremy served these roles at Prairie Farms Dairy, Tipton Mills, and PacMoore Process Technologies. Throughout his career, he has successfully led food manufacturing plants to achieve and maintain top ratings for Global Food Safety Initiative (GFSI) audits.
Jeremy graduated from Purdue University with a Bachelor of Science degree in Food Science. Jeremy joined the Purdue Manufacturing Extension Partnership in 2015.
Skills & Expertise:
Certified HACCP Manager
Global Food Safety Initiative (GFSI) Implementation
Food Safety Modernization Act (FSMA) Implementation
Internal Auditing, Employee training programs
Quality Assurance and Quality Control policy writing and implementation
Plant Sanitation Programs
Customer Complaint Reduction
Root Cause and Corrective/Preventative Action Plans
New Product Commercialization
Statistical Process Control (SPC)
Food Microbiology